NewsFlash brings you all the latest news as it breaks, combining headlines from multiple news sources into a single stream of news updates. No set up is required. NewsFlash lets you quickly scan and follow the top stories of the day, organized in sections that interest you, be it News, Business, Sports and even Celebrity Gossip.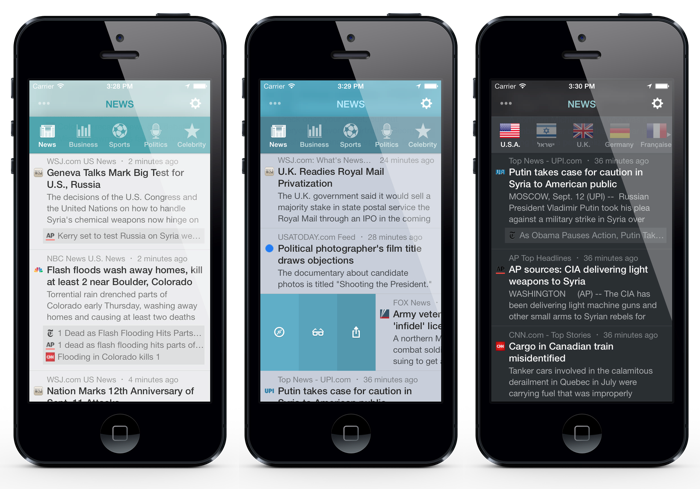 ★★★★★ "Easy, sleek and useful... best news and feed aggregator in app store..."
★★★★★ "Awesome!... just what I have been looking for..up to the minute news, short description, no BS..."
★★★★★ "I Like This App... Easy to use. Quick way to scan the news. I am impressed. This App is my go to App each evening... "
No Setup Required
There is no setup required. NewsFlash will detect your country and configure itself for you. Then you can customize NewsFlash by selecting news sections and feeds that interest you most, display story previews, select the background color or change the font size. A huge font is available for those of us with less than perfect vision.
Share & Read Later
Articles can be saved to Safari Reading List or bookmarked for later reading in Instapaper, Readability and Pocket. Articles can also be shared on Facebook and Twitter, and with AirDrop, iMessage and Email.
Top Performance
NewsFlash is blazingly fast - by taking advantage of today's multi-core chips it downloads and organizes hundreds of articles from multiple news sources in an instant. Just tap the NewsFlash icon and all the latest news is right there!
NewsFlash is supported by iAds, which can be removed with an In-App Purchase.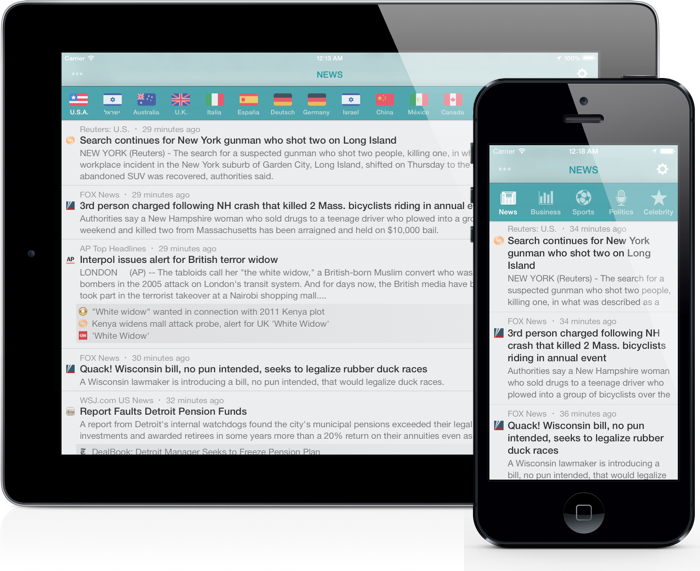 News from Around the World
News is available from the U.S., Canada, UK, France, Germany, Italy, Israel, Spain, Australia, Japan and China. The user interface offers localization for seven languages: English, Française, Deutsch, Italiano, Español, 日本語 or עברית.
⚐ Française: Les dernières Actualités en direct sur le Flash Actu.
⚐ Deutsch: Die wichtigsten News, Nachrichten und aktuelle Meldungen.
⚐ Italiano: Tutte le ultime notizie in tempo reale.
⚐ 日本語: ヘッドラインニュース
⚐ בנגיעה אחת ניוז-פלש אוסף את כל המבזקים והחדשות מהארץ והעולם, כלכלה, ספורט ואפילו רכילות, הכל בעברית מאתרי החדשות המובילים בארץ.
★★★★★ "Outstanding... I have tried many news apps over the past several years. Finally, I have found a winner with NewsFlash!"
★★★★★ "Clean, smooth, customizable... this has replaced all of the magazine-style aggregators I previously tried such as Zite and Flipboard...."


Version 3.5
October 5, 2014
Fixed Sharing on iPad
Version 3.4
September 25, 2014
Optimized for iPhone 6 and iOS 8
Version 3.3
July 21, 2014
Support for iOS 8
Version 3.2
March 18, 2014
Optimized for iOS 7.1
Updated some broken links
Version 3.1
October 11, 2013
Images for popular headlines shown across the top
Option to disable statusbar transparency
Version 3.0
September 15, 2013
Redesigned for iOS 7
New icon
Save articles to Safari reading list (iOS 7 only)
Swipe articles to quickly share and save to reading lists
Share articles with AirDrop (iOS 7 only)
Open articles in Safari
Improved readability
Improved performance
Version 2.2
May 8, 2013
Added news from Mexico
Added some new sources
Fixed some broken links
Version 2.1
November 5, 2012
Added Canadian feeds
Added Spanish feeds

Added localization for Italian (Italiano), French (Française), German (Deutsch), Spanish (Español), Japanese (日本語) and Hebrew (עברית).
Version 2.0
October 16, 2012
New interface look for iOS 6
Version 1.8
September 19, 2012
Optimized for iPhone 5 and iOS 6
Version 1.7
July 30, 2012
Faster loading of web pages
Version 1.6
June 25, 2012
Similar articles are now grouped together
Version 1.51
April 30, 2012
Fixed problem updating the inactivity refresh setting
Version 1.5
April 27, 2012
Bookmark for later reading in:
- Instapaper
- Readability
- Read It Later

Added inactivity refresh setting
Added cookies deletion setting
Updated feeds for Italy, France
Fixed crash in U.S. Science feed
Version 1.4
February 17, 2012
Improved graphics
Added feeds from China
Added more Japanese feeds
Version 1.3
January 28, 2012
Added Australian feeds
Minor improvements
Version 1.2
December 17, 2011
Fixed problem hiding feeds
Updated some graphics
Added more German feeds
Version 1.1
December 13, 2011
Added more Italian feeds
Minor enhancements
Version 1.0
December 7, 2011
App Release

Comments, suggestions, ideas or questions are always welcomed.