iGold is the best way to track the price of gold, silver, and other precious metals. It's quick and feature-rich, and beautifully redesigned for iOS 7. Features include Price Alerts, Charts, News, a Calculator and much more.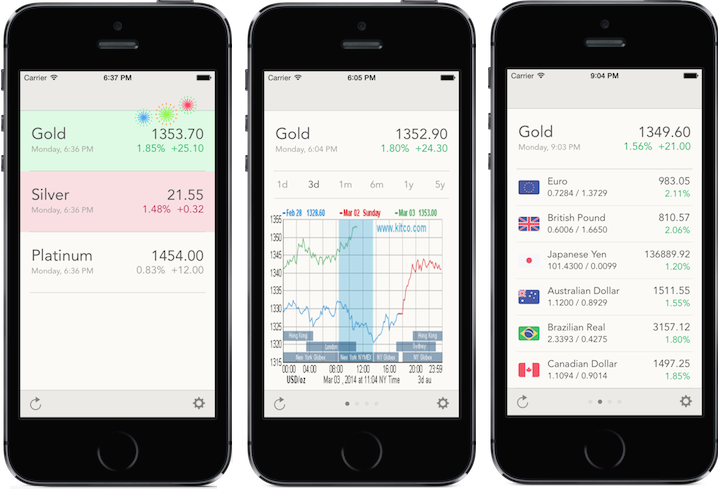 ★★★★★ "Solid Gold! I love this app! I use it everyday... simple interface and choice of data providers makes this a reliable choice. Well done!"
★★★★★ "...a pretty and very useful iPhone application that beautifies, clarifies and takes all the effort out of a task some of us perform numerous times a day..."
ALERTS
iGold periodically updates quotes in the background and will notify you when the price crosses a certain threshold, or when the price spikes during the day.
NEWS
The latest news for precious metals and trading strategies is offered from a variety of news sources.
CHARTS
Current and historical charts are available for each of the precious metals.
CALCULATOR
iGold's Calculator quickly calculates the value of jewelry and investments, with options for fineness (24K, 18K, 14K, etc), currency conversions and adjustments for fees and commissions.
CURRENCIES
Precious metal prices are shown in multiple currencies from around the world. Up to the minute currency exchange rates are available for sixty-five different currencies.
BACKGROUND REFRESH
Background Refresh can be enabled to periodically update quotes in the background, issue alerts, and show the latest quote right on the app icon.
PERFORMANCE
iGold requires as little as 1K of bandwidth to quickly and efficiently retrieve real-time price quotes from Kitco.com or Yahoo.
MULTILINGUAL
iGold offers a user interface localized in 9 languages.
iGold was the very first gold app on the App Store, launched on the day the App Store opened. Now, redesigned for iOS 7 with many new features, iGold is still the best way to track precious metals!
★★★★★ "...if you'd appreciate much easier access to spot prices and for them to keep updating themselves once you've arrived, iGold's your baby."


Version 3.2
September 30, 2014
Optimized for iPhone 6 and iOS 8
Version 3.1
July 21, 2014
Support for iOS 8
Version 3.0
March 7, 2014
Redesigned for iOS 7
Price alerts.
Day Gain/Loss alerts.
Price Spike alerts.
Background price refresh.
News for precious metals.
Shows latest quote on app icon.
Palladium now supported.
Calculator option for fees.
Customize layout.
Version 2.5
September 30, 2012
Optimized for iPhone 5 and iOS 6
Version 2.42
January 13, 2012
Fixed kitco currencies view (the data format was changed once again).
Version 2.41
December 3, 2011
Updated kitco currencies view for new data format.
Version 2.4
December 16, 2010
New icon.
Adjusted colors for easier reading.
Version 2.3
June 30, 2010
Minor improvements
Version 2.2
June 17, 2009
New: Calculator for easy valuation of metals based on specific currency and/or metal fineness (e.g., 24k, 18k, 14k, etc.).

New: Rotation of the iPhone or iPod touch offers full screen view of charts.

New: 5-year chart for Kitco and a 2-year chart for Ino.
Version 2.01
September 28, 2008
New: User interface in 10 languages: English, Spanish, French, German, Italian, Russian, Chinese, Japanese, Hebrew and Arabic.
Version 2.0
September 6, 2008
New: Current and historical charts are shown for each of the precious metals. 1-day, 3-day, 1-month, 6-months and 1-year graphs are available from Kitco.com and Ino.com. Double-tapping the chart zooms to zoom the chart's details.

New: Precious metal prices can be viewed in multiple currencies from around the world. Up to the minute currency exchange rates are also available for as many as sixty-five different currencies, from Ino.com and Yahoo.
Version 1.02
August 6, 2008
Minor enhancements and fixes
Version 1.01
July 30, 2008
Minor enhancements
Version 1.0
July 11, 2008
App Release

Comments, suggestions, ideas or questions are always welcomed.