iCurrencyPad is not just a simple and elegant currency convertor and calculator. iCurrencyPad also offers an up-to-the-minute exchange rates "electronic board", detailed charts of historical price trends, favorite currencies, multiple data source, and a user interface in 9 languages.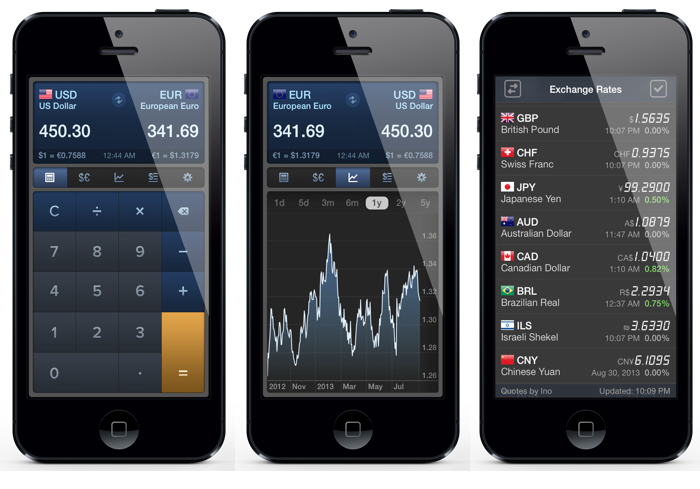 ✔ a polished, easy-to-use interface.
✔ 150+ currencies from around the world.
✔ favorite currencies to reduce clutter.
✔ charts for all exchange rates.
✔ multiple data sources.

✔ HD Retina display graphics.
✔ iPhone, iPad and iPod Touch resolutions.
★★★★★ "Excellent! Professional! Highly Recommended... finally the currency application I have been waiting for so long..."
★★★★★ "...I tried all other similar apps, and I am proud to announce that this app is simply the best of them all.."
★★★★★ "Smart, intuitive and flexible!... slick interface with great functionality which further impresses with its great selection of currencies and immediate updates. Good job! Highly recommend!"
Simple Interface
iCurrencyPad was designed to be fast and easy to use. Just select the currencies to convert and tap in the amount to convert. A convenient calculator allows for basic math calculations, showing the results as the values are tapped. Swipe across the display to swap the left and right currencies, or swipe up and down to select different currencies. Tap and hold to copy/paste.
Favorite Currencies
While iCurrencyPad offers exchange rates for 150+ currencies from around the world, you may be interested in only a few currencies. To reduce clutter on the screen, iCurrencyPad allows you to select and sort your Favorite Currencies, so only those currencies that interest you appear on the screen, thereby making the application easier and faster to use.
Charts
Detailed charts show the history of exchange rates for any two currencies. Tap on the chart for the exchange rate on any particular day. Tap with two fingers to show the change in rates between any two dates. Rotate the device for a larger chart in landscape view. Charts for most currencies are available for 1-day, 5-days, 3-months, 6-months, 1-year, 2-years, 5-years and 10-years.
Exchange Rates Listing
The exchange rates listing shows a base currency compared to all other currencies, similar to the electronic exchange rate boards seen in "Change" shops around the world.
Exchange Rates Updates
iCurrencyPad updates Exchange Rates on demand, or automatically at pre-defined intervals ranging from 15 seconds to 1 day. Exchange Rates are automatically updated when the app is launched, or auto-updates can be turned off when roaming. An Internet connection is required to update rates, either via cellular network or a Wifi connection. Without a connection, rates can still be accessed and converted using the last data downloaded.
Data Sources
iCurrencyPad supports two data sources; Yahoo, and Ino.com. The Yahoo source offers exchange rates for 150+ currencies and is suitable for travelers the world over. The Ino.com source offers exchange rates for 60+ major currencies, with near real-time quotes and percent change from the prior day, suitable for fx traders in need of accurate up-to-the-minute exchange rates of major currencies.
Tutorial
A short 20-second tutorial will play when you first launch iCurrencyPad.
Languages
The user interface is offered in 9 languages: English, Spanish, French, German, Italian, Russian, Chinese, Japanese and Arabic. Please visit the App Store in your language for a translated description and screenshots.
Reviews
MacStories, Feb 17, 2010 "...iCurrency Pad is a great piece of software powered by a stunning design and usability. It's beautiful, useful, powerful yet simple and straightforward..."


Version 2.1
March 12, 2014
Currency can now be selected by tapping it.
Removed Ino data source. (Ino.com no longer wishes to provide quotes for iCurrencyPad)
Version 2.0
September 15, 2013
Redesigned for iOS 7
Version 1.8
September 30, 2012
Optimized for iPhone 5 and iOS 6
Version 1.7
July 3, 2012
- iPad Retina icon.
- Workaround for charts showing a spike due to incorrect values from Yahoo's current day's rates.
Version 1.6
May 13, 2011
Added currencies:
- BAM Bosnia-Herzegovina Mark
- KGS Kyrgyzstani Som
- MZN Mozambican Metical

New: Danish localization.
Workaround for Yahoo's 5-day chart data inversion.
Fixed: Chinese localization under iOS4.
Fixed: crash on 5-day charts of some currencies.
Version 1.5
November 8, 2010
iPad landscape support
iPad full-screen charts

Added currencies:
- AMD - Armenian Dram
- SRD - Suriname Dollar

Minor enhancements
Version 1.41
July 29, 2010
Fixed charts not refreshing when fast app switching.
Version 1.4
July 14, 2010
iOS4 multitasking support
Retina HD graphics
New icon
Version 1.3
May 15, 2010
iPad Support: iCurrencyPad is now a "universal" app that runs natively on the iPad, iPhone and iPod touch.

Added currencies:
- AZN - Azerbaijani Manat
- MGA - Madagascar Malagasy Ariary
- XAF - Central African CFA Franc
- XOF - West African CFA Franc

Minor enhancements
Version 1.2
April 8, 2010
Corrected inverse display for:
- XCD - East Caribbean Dollar
- XPF - Pacific Franc

Fixed gold price under Yahoo.
Minor UI tweaks.
The backspace key was moved to the far right.
Version 1.1
February 8, 2010
Minor enhancements
Version 1.0
January 30, 2010
App Release

Comments, suggestions, ideas or questions are always welcomed.